Now Accepting applications for the 2024-2025 school year for 5th and 6th grade. (7th grade 2025-2026, 8th grade projected 2026-2027).
If you would like to be kept informed, sign up for emails by clicking the link below.
Students will experience an art-led educational experience as they prepare for the arts and academics at an A-rated school. Students in the 5th and 6th grade wing of the Harding Fine Arts Academy building will explore the arts in class and within the HFAA community while focusing on academic achievement. As a demonstration school, HFAA students will benefit from the arts integration approach supported by OKA+ schools in alignment with State and National standards.
Prospective Middle School Student and Family Night
Thursday, November 30, 2023 @ 6:00pm in the Harding Fine Arts Academy auditorium
 Application timeline
Open Enrollment Begins November 6, 2023
Open Enrollment Closes March 1, 2024
Student Lottery is held March 4, 2024
Students and Families will be notified by March 5, 2024 (by email)
For questions about your student's application email Bronda.Williams@hfaaokc.org.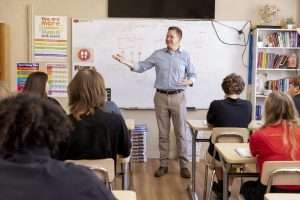 Middle School Information
Middle school at HFAA is starting soon! Reach out to us with any questions you may have.