Our mission is to provide a quality education to all students regardless of gender, status or lifestyle through an academically challenging, arts-integrated environment. Our application process is easy and inclusive for all.
Commitment to Student Capacity
Each year we are committed to growth and ensuring that all students are able to receive our best-in-class education offerings. While we would love to admit each and every student who applies, we are required to limit our capacity for health and safety protocols and standards.
For the 2023-2024 school season, our current allowable capacity is:
135 for freshmen – Current enrollment 119 – Open spots 16
135 for sophomores – Current enrollment 117 – Open spots 18
115 for juniors – Current enrollment 107 – Open spots 8
100 for seniors – Current enrollment 88 – Open spots 12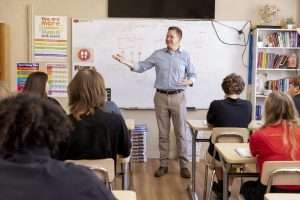 Application Process
Check to be sure our current capacity requirements can accommodate your request.
Complete the application and provide all requested information.
Stay tuned to hear from us on our decision.
Application Downloads