Our mission is to provide a quality education to all students regardless of gender, status or lifestyle through an academically challenging, arts-integrated environment. Our application process is easy and inclusive for all.
Commitment to Student Capacity
Each year we are committed to growth and ensuring that all students are able to receive our best-in-class education offerings. While we would love to admit each and every student who applies, we are required to limit our capacity for health and safety protocols and standards.
For the 2023-2024 school season, our current allowable capacity is:
135 for freshmen – Current enrollment 93 – Open spots 42
135 for sophomores – Current enrollment 110 – Open spots 25
115 for juniors – Current enrollment 102 – Open spots 13
100 for seniors – Current enrollment 89 – Open spots 11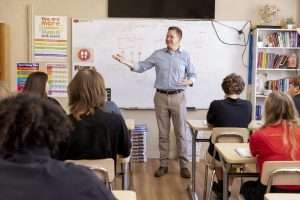 Application Process
Open Enrollment Begins October 1, 2023.
Open Enrollment Closes March 1, 2023.
Student Lottery is held March 4, 2024.
Students & Parents will be notified by March 5, 2024 (by email).
English Application    Spanish Application
If you want to apply for the 2023-2024 school year, please call our office at 405-702-4322.